Porcelain Veneers Can Conceal Minor Blemishes and Renew Confidence
---
Teeth with flaws such as discoloration, chips, and cracks can have a negative impact on your confidence and cause you to feel apprehensive in social situations. Dr. J.D. Murray and Dr. William Alexander understand how important it is to feel good about your smile, which is why he offers porcelain veneers at his East Point, GA, office. He can bond these wafer-thin shells of porcelain to the fronts of teeth to make them look flawless, and it only takes two simple appointments. Dr. Murray's extensive skill and experience with this cosmetic dentistry technique can produce a dramatic transformation of a patient's smile and confidence.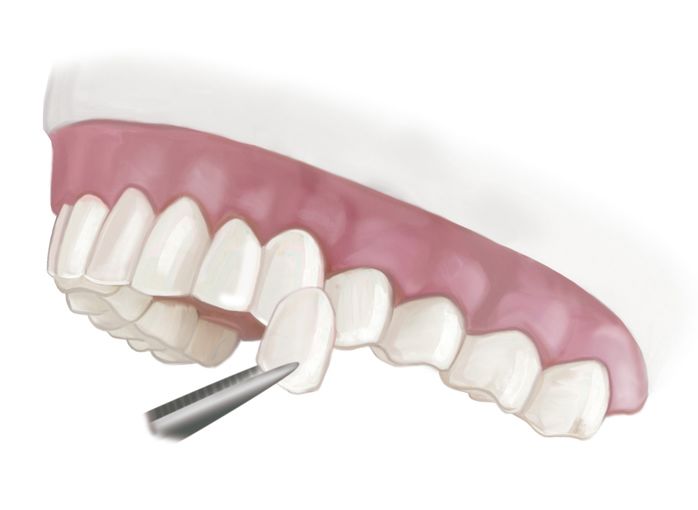 Porcelain Veneers Basics
Porcelain veneers can enhance the appearance of chipped, gapped, misshapen, or otherwise moderately flawed teeth. Because they are so thin, they have a translucence that looks very natural and beautiful. Each veneer is custom-crafted from high-quality material, and they can be hand-shaded to produce the most flattering effect. Veneers are a simple way to add a touch of polish to your smile, and, depending on how many are placed, they can give you a brand-new look. As long as you take good care of them, your veneers can last for many years before they need to be replaced.
Porcelain veneers can take an ordinary or flawed smile and transform it into a beautiful, radiant masterpiece.
Placing Porcelain Veneers
Two office visits are required for the placement of porcelain veneers. Typically, a porcelain veneer is about .5 to .7 millimeter thick, or about the width of an eggshell. In order for the veneer to lay flush on the front surface of your tooth, Dr. Murray will need to gently remove the same amount of tooth enamel as the veneer is wide. Next, Dr. Murray will take impressions of your teeth that will guide the fabrication of your veneers. You may be fitted with temporary veneers until your permanent ones are ready.
Dr. Murray will send the specifications to an advanced dental laboratory that will design and manufacture your veneers. This usually takes about two weeks. When your veneers arrive at our office, we will schedule your second appointment. At this visit, you and Dr. Murray will evaluate the color, size, fit, and shape of the veneers. Once these have been checked, Dr. Murray will use an etching solution to create a rough surface on your teeth that allows the bonding material to achieve a firm hold. Then he will attach the veneers to your teeth one by one. When this is finished, he will make any minor adjustments that may be needed. You will then leave our office with your new smile.
Enhance Your Appearance, Renew Your Confidence
Porcelain veneers can take an ordinary or flawed smile and transform it into a beautiful, radiant masterpiece. Many patients choose to have veneers placed as part of their smile makeover treatment. Dr. Murray's commitment to the latest technology and innovative treatment methods result in durable and natural-looking veneers that will make you proud to show your smile. You can take care of your veneers the same as you would with your natural teeth, but be sure to use a non-abrasive toothpaste. If you are interested in refreshing your smile with porcelain veneers, contact our office today to schedule a consultation.
"As a family practice, we understand the importance of providing treatments for patients of any age. We pride ourselves on our comprehensive cosmetic, restorative, and implant treatments."

Dr. Murray